What the reviewers are saying:
Publishers Weekly
This chronological collection of materials written by and about the acclaimed children's book author forms an engaging portrait of an important figure. Her essays, speeches, and dialogues address such issues as racial identity in America, the role of a writer, and the influence of children's literature ("I want to change the perception about young people," she said in a 1993 lecture, "that generally they are not capable of enjoying complex stories"). Fans and scholars alike will value her intimate discussion of her craft in such beloved works as The Planet of Junior Brown and M.C. Higgins, the Great. Ages 10–up. (Feb.)
Kirkus Reviews
Before she died, Hamilton (1934-2002), likely the most honored writer for young people ever, also had a thing or two to tell adult audiences about her art, craft, milieu and African-American identity. Most of those observations were aired in award speeches, keynote talks and interviews that were published, if at all, in professional journals. Adoff, the author's husband, gathers more than 30 addresses along with "rememories"—her term, defined as "an exquisitely textured recollection, real or imagined, which is otherwise indescribable"—from him and their two children. The collection begins with a ruminative 1971 self portrait ("Each book must speak 'This is what I have to say,' in the hope that each reader will answer 'That is what I wanted to know' "), ends with a letter savaging a critic of certain ethnic literary awards and in between carries reflections on her background, her stories and characters, her literary models (notably Hans Christian Andersen) and the effects of being a black female writer. She never repeats herself, but common themes emerge-particularly the central importance of "moral realism" in her writing, and her provocative view that American society is a weave of permanently "parallel cultures," with those in the minority oppressed, politicized, and represented by writers whose work is infused with racial awareness. Capped by a long list of major awards and an annotated list of works, these selections-more of which will be posted later on the website that Adoff lovingly maintains-will not only spark rememories in those who knew or heard her, but leave readers and writers with profound insights into her mind and spirit. By any standards Hamilton was an unusually clear thinker and brilliant wordsmith. Here a lesser-known facet of her glittering reputation gets a fresh shine.
Kirkus Reviews: The Liberation Literature of VIRGINIA HAMILTON (pdf)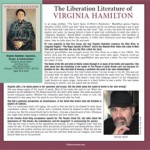 In an essay entitled, "The Spirit Spins: A Writer's Resolution," MacArthur genius Virginia Hamilton (1934–2002) said that "what my parents did for me without realizing it was to give me the sense that I was free to create my own mind." She, in turn, has done the same for her readers and peers, by leaving behind a body of work that contributes to what she called a "liberation literature." Arnold Adoff, co-editor of this invaluable collection, met Hamilton in 1958 in New York City. When they married, in 1960, their interracial union was illegal in 28 states. Here he talks about her life and work.
Kam Williams, syndicated book and film critic
"In the 35 years between the publication of her first book and her death in 2002, Virginia Hamilton earned a place of honor in the pantheon of children's literature… Hamilton's books were about illuminating black experience in America, the journey of black people across what she called the American hopescape. She stated, more than once, that she saw her work as helping to portray 'the essence of a people who are a parallel culture community of America,' while at the same time revealing the universality among peoples.
This collection of Hamilton's essays, speeches and conversations is significant because it sheds light on the genius behind her profoundly important body of work. These pieces show Hamilton as a serious scholar of history and folktales and make clear the importance of place, time, family, and history to her and to her work… For those of us who knew and admired her, this collection offers the chance to 'hear' her voice again and be reminded once more of the enormity of her talent and the richness of her legacy."
—Excerpted from the Introduction by Rudine Sims Bishop (pgs. 11-12)
Over the course of her illustrious career, Virginia Hamilton earned every major honor for which her children's books were eligible: including the Newbery Medal, the National Book Award, the NAACP Image Award, the Hans Christian Andersen Award and the Coretta Scott King Award, to name a few. Among her many masterpieces were works like The People Could Fly, a collection of two dozen, magically-illustrated folktales relied upon by blacks to cope during slavery.
But because Hamilton's work was aimed at kids, her readers never got much of an idea about what motivated her to create such a bounty of inspired literary treasures. Fortunately, Arnold Adoff, with the help of fellow editor Kacy Cook, culled through his late wife's papers, and the upshot of their efforts is Virginia Hamilton: Speeches, Essays & Conversations, a veritable, posthumous memoir which offers a compelling peek into how the innovative author's mind worked.
For instance, she shares that The People Could Fly was one of those thoroughly pleasurable projects that one comes upon occasionally… It didn't feel like work; it felt like an exploration of my own heart and being." Overall, the collection paints a rich portrait of a literary icon revealing her to be a brilliant, opinionated and, fiercely-independent soul whose legacy and innovative approach to storytelling deserves to be the subject of study not merely by African-Americans but by English scholars of all hues for generations to come.
Voted Most Outstanding Journalist of the Decade by the Disilgold Soul Literary Review in 2008, Kam Williams is a syndicated film and book critic who writes for 100+ publications around the U.S. and Canada. He is a member of the New York Film Critics Online, the African-American Film Critics Association, the NAACP Image Awards Nominating Committee, and Rotten Tomatoes. In addition to a B.A. in black studies from Cornell, he has an M.A. in English from Brown, an MBA from The Wharton School, and a J.D. from Boston University. Kam lives in Princeton, N.J., with his wife and son.
Amy Bowllan, Director of Diversity and Educational Technology at The Hewitt School in NYC
Writers Against Racism: Virginia Hamilton's Love Story With Literature Part 1
Writers Against Racism: Virginia Hamilton Lifetime Achievement Award
Writers Against Racism: Virginia Hamilton – A Video Biography
Writers Against Racism: Quotes by Virginia Hamilton
Writers Against Racism: In His Own Words…Arnold Adoff
Nancy Gilson, The Columbus Dispatch
Author's strong opinions gathered in collection
Lauren Heaton, Yellow Springs News
Virginia Hamilton book and award – Curating legacy of American writer
Hazel Rochman, ALA Booklist
Advanced Review – Issue: March 1, 2010