Wee Winnie Witch's Skinny
An Original African American Scare Tale
Witches Beware!
In a hauntingly scary tale of bewitchment and fright, master storyteller Virginia Hamilton has created her own shivery goose bumps story filled with drama and suspense.  But witches, beware! Here's a wild night ride so hair-raising, it make you jump right out of your skin…
Virginia Hamilton draws upon her extensive knowledge of folktales in this "scare tale," in which young James Lee discovers his Uncle Big Anthony has been cursed by a Wee Winnie Witch, who rides him like a broom across the night sky! When the witch captures James Lee and takes him along, Mamma Granny knows just what to do.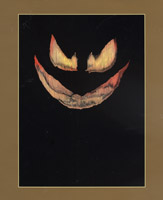 She fills the Wee Winnie Witch's skin, which the Wee Winnie removes before her ride, with hot pepper. When it's back in place, Wee Winnie's burnt to a crisp! Full of Virginia Hamilton's poetic vernacular and authentic details, this is a perfect thrill for any spooky night.
Illustrations © 2004 by Barry Moser
The Blue Sky Press
An Imprint of Scholastic Inc.