The Magical Adventures of Pretty Pearl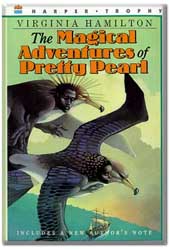 One long time ago, when Pretty Pearl god child stepped down from Mount Highness, in Africa, to find out more about poor humankind, she also was itching to show off her powers. Still, she was pleased when know-all best god, her older brother John de Conquer, decided to travel with her. Disguised as albatrosses, they sail atop a slave ship to the Georgia colony and then wait under the blood-red southern soil, maybe two god days – maybe two centuries, human time.
But Pretty can't wait any more time. The sorrow of the darker peoples has gotten behind her eyes. Now is her time to act! And brother best god knows it's her time too. He gives Pretty a magical necklace that holds four ancient spirits to help her in time of need; but he also gives her three god rules which must never be forgotten, and a special warning to beware of the winning ways of humans….
Reviews:
"Drawing upon her fabulous storehouse of black legend, myth and folklore, Newbery Award-winning author Virginia Hamilton has ventured again into new ways of exploring the human spirit in this extraordinary fantasy filled with mysteries, beauty and hope." Harper & Row

"The author interweaves black folklore with her own family history in a tale remarkable for its total integration of the novel with the imaginative possibilities of legend; and she establishes and illuminates the symbolic structure of many of her previous books." The Horn Book

"Hamilton is, as always, the master storyteller as she uses fantasy to weave a tale depicting the human condition of the darker sisters and brothers of our land during the time of colonial Georgia. Hamilton's text is richly dramatic and full of humor." Language Arts

"Don't miss Pretty Pearl! The book will provide you with magical spiritual moments, some belly laughs. But best, it will introduce you to some very serious African American ancestors and cultural archetypes who inhabit a great history we should all know much better." Interracial Books for Children Bulletin

"A masterpiece; a stunning story rich in character, drama, humor and emotion. This is vintage Hamilton." Parent's Choice
Awards:
– ALA Best Book for Young Adults
– ALA Notable Book
– Coretta Scott King Honor Book
– Notable Children's Trade Book in the Field of Social Studies
– School Library Journal Best Book of Spring 1983
Harper & Row, Publishers
Cover art © 1998 by Leo and Diane Dillon
Cover Design by Steve Scott
Cover © 1998 by HarperCollins Publishers