The Girl Who Spun Gold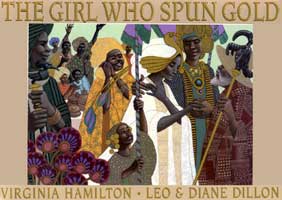 Meet Quashiba, a beautiful, innocent girl who is about to be made a queen, although she is not a princess. No, she is merely a peasant girl, busy spinning the plainest thread on a day when the king comes riding up to her.
"Oh, great Big King," says her mama, hoping to catch the king's attention, "my daughter is spinning a whole field of finest golden thread to make cloth for his Highest."
What can Quashiba do about her mama's terrible lie? For the king decides to marry her, and in a year, he will padlock her in a room and demand that she spin and weave him three whole rooms of golden things.
So begins the dramatic, fascinating fairy tale about Quashiba and the tiny, sinister creature who agrees to save her by spinning gold on one condition.
During his three nights of spinning and weaving, she has three chances to guess his whole name. If she fails, he will make her tiny and carry her off.
What will Quashiba do?
Illustrations © 2000 by Leo & Diane Dillon
The Blue Sky Press
An Imprint of Scholastic Inc.