The Bells of Christmas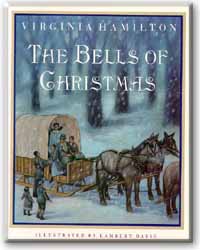 Christmas comes but once a year, yet for eager children everywhere, the wait feels like forever.
Bells! There are bells on the Christmas tree, church bells, and harness bells. But most important for Jason are the Bells who will arrive on Christmas Day: Uncle Levi Bell, Aunt Etta Bell and cousin Tisha Bell, Jason's best friend.
The excitement of tree trimming and helping his father and mother prepare just makes Jason more impatient. On Christmas Eve, the sky is an empty, winter blue bowl, with not a hint of snow. Fair weather is the worst when your favorite cousin is hoping for a sleigh ride. But Christmas brings wonderful surprises — to everyone.
For generations Jason's family has lived beside the historic National Road near Springfield, Ohio. Although he knows the story of drovers and Conestoga wagons and Christmas one hundred years ago, Jason wonders how the holiday will be celebrated a hundred years in the future. Will there really be horseless carriages in the twentieth century? And sleighs that fly through the air? Here is a traditional story that shares with us Christmas, 1890, and celebrates the continuing joy of Christmas as we know it today. Let us rejoice with this loving family when relatives came to visit on a Great Day long ago.
Awards:
– ALSC List, "The USA Through Children's Books"
– ALA Notable Book
– Booklist Editor's Choice
– Coretta Scott King Honor Book
Harcourt Brace Jovanovich
Illustrated by Lambert Davis