Sweet Whispers, Brother Rush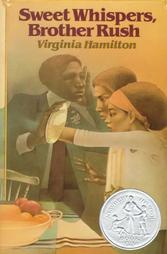 Fourteen year old Teresa, better known as Tree, is the sole caretaker of her retarded older brother, Dabney, while her mother works. Sometimes, it seems to Tree that her mother just uses work as an excuse to get away from the problems of her fatherless family. When she meets a handsome young stranger who calls himself Brother Rush, she feels her life is about to be changed by him — but she could not have dreamed in what way.
Brother Rush turns out to be a ghost who draws Tree into a fascinating exploration of her own family's recent past, uncovering tangled relationships, dark and sometimes frightening guilts and secrets — and leads Tree ultimately to a deeper understanding of herself and her mother.
Reviews:
"This is a superb book, convincing and profoundly affecting." – Publishers Weekly

"…Just read the first page, just the first paragraph, of Sweet Whispers, Brother Rush. Then stop — if you can." – Katherine Paterson, New York Times Book Review

"Few writers for young people are as daring, inventive and challenging to read as Virginia Hamilton." – Horn Book
Awards:


– American Book Awards Honor Book
– ALA Best Book for Young Adults
– ALA Notable Book
– Booklist Best of the 1980's
– Booklist Editor's Choice
– Boston Globe Horn Book Award
– Coretta Scott King Award
– Library of Congress Best Books for Children
– NCTE Teacher's Choice
– Newbery Honor Book
– Notable Children's Trade Book in the Field of Social Studies
– School Library Journal Best Book of the Year
– Received the 1983 Certificate of Honor from IBBY (The International Board on Books for Young People) as "an outstanding example of literature with international importance."
Philomel Books Division of Putnam Publishing
Jacket Illustration © 1982 by Leo and Dianne Dillon