Jaguarundi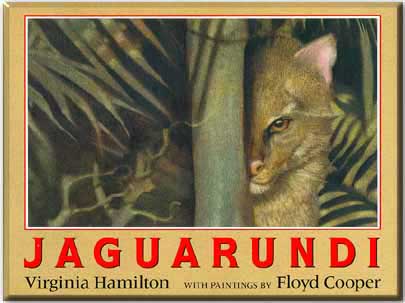 Time was when Rundi Jaguarundi lived long warm days in the rain forest wild. But then strangers came and changed everything. No longer was there a safe place for shy Rundi Jaguarundi to be.
Now Rundi has decided it is time for him to flee his homeland in search of a better life. Will any other of his forest friends join him on his journey north? Or will Rundi find that he has to stay where he is and take his chances?
Virginia Hamilton, known throughout the world for her contributions to African American folklore, now creates an original fantasy. This thought provoking story introduces young readers to a variety of real rain forest animals who must struggle to find a way to survive the destruction of their natural environment.
Floyd Cooper's dramatic paintings capture the mystery of these fascinating yet unfamiliar animals, many of which are rarely seen.
"…and in the African-American tradition of animal folktales, as found in The People Could Fly, the animals in Jaguarundi can talk. The story parallels humans who escape their homelands in search of better, safer lives. I was astounded to discover the added bonus, with the animals, of a classic symbolism of fleeing North – crossing the Great River into a Promised Land. I didn't plan it; nothing was further from my mind. But the symbolism was indeed organic and was to me a wonderful revelation about this book." Excerpt from a speech by Virginia Hamilton at the Tenth Annual Virginia Hamilton Conference in Kent, Ohio, on April 15, 1994.
Reviews:
"This compelling picture book is an animal fantasy rooted in physical reality. Hamilton says in a note that 'the story parallels humans who escape their homelands in search of better, safer lives.' The facts about the real animals are as powerful as the metaphor." – Booklist

"An original fantasy that 'introduces young readers to a variety of real rain forest animals.' …A valuable curriculum item which will fill many needs." – School Library Journal
The Blue Sky Press, an Imprint of Scholastic Inc.
Jacket illustration, © 1995 by Floyd Cooper