Her Stories
African American Folktales, Fairy Tales and True Tales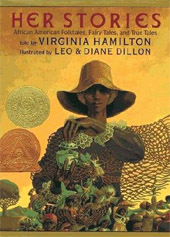 Dedicated to our mothers and grandmothers, aunts and great-aunts, Her Stories is a spirited celebration of our strength, our dreams, and the precious gift of life and love from generation to generation.
Gracefully told by Newbery Medalist Virginia Hamilton, the nineteen stories in this book focus on the magical lore and wondrous imaginings of African American women. Vibrant paintings by Caldecott Medalists Leo and Diane Dillon glow with the drama and mystery of each tale while reflecting the warmth and beauty of the people who first told them.
From lighthearted trickster tales such as "Little Girl and Buh Rabby" to the enchanted world of "Mary Belle and the Mermaid," Her Stories presents a broad range of folktales, fairy tales, and legendary women. Annie Christmas, the notorious seven-foot-tall riverboat operator, shares the stage with Cat Woman, a New Orleans vampire; tiny fairy folk make a rare appearance, and the unforgettable Catskinella, a strong-minded beauty, outwits her father and goes on to win her prince. Closing the book, three true autobiographical stories provide readers with intimate personal accounts of events in African American history, from slave times to the present.
Her Stories broadens our understanding of ourselves as well as others—our joys, fears, and wishes as individuals and as a community. Together, stories, illustrations, and the author's notes combine to create a remarkable book that honors our heritage while giving us hope and inspiration for the future.
A "Hungry Mind Review" 1996 Children's Book of Distinction
The 1996 Honor Titles Storytelling World Award
"I write books for children and their older allies. I write for my enjoyment and theirs." Virginia Hamilton
The Blue Sky Press Scholastic, Inc.
Jacket Illustrations © 1995 by Leo and Diane Dillon