Cousins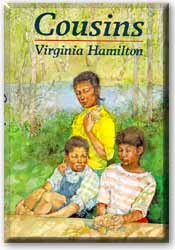 One thing was, Cammy knew what she liked and what she didn't. She liked – no, she was full of love for – her grandmother; even now, when Gram Tut was at the Care home.
She loved her mother, and her big brother, sixteen-year-old Andrew. He rode around in a pickup truck that he called his "pup." And sometimes he let her ride around in it with him!
But her cousins were something else. Richie was just plain trouble, no matter what Andrew said. Elodie – L.O.D. – was barely a cousin, though she counted as a friend.
The problem was her cousin Patty Ann. She was too pretty and too smart. Too spoiled. Cammy hoped she would vaporize, the way people did in science fiction. But then, people sometimes got their wish. Supposing Cammy got hers? What would she do then?
Awards:
– ALA Best Book fr Young Adults
– ALA Notable Book
– Booklist Editors' Choice
– Child Study, 1990 Titles (Bank Street Book Cte.)
– New York Public Library 100 Titles for Reading and Sharing
– Notable Children's Trade Book in the Field of Social Studies
Philomel Books Division of Putnam Publishing
Jacket art © 1990 by Jerry Pinkney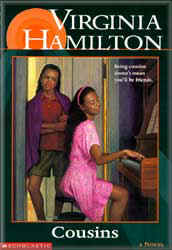 Cousins Paperback
Scholastic, Blue Sky Press
Jacket art © 1998 by Leo and Diane Dillon