Bruh Rabbit and the Tar Baby Girl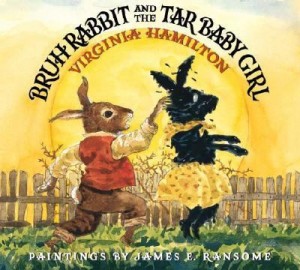 Brimming with sass and humor, this wonderful story about Bruh Rabbit and the tar baby is one of the most popular and beloved tales in America.  As always, Bruh Rabbit sets off to outwit his enemies, and in turn, they try all manner of tricks to catch him and give him his comeuppance.
Now, Newbery Medalist Virginia Hamilton adds her own distinctive splash of fun to Bruh Rabbit's schemes to feed himself from Bruh Wolf's garden – without doing any of the work.  And when Bruh Wolf tries to trap that pesky rabbit by making a sticky, tar baby girl, the result is a story that begs to be read again and again.
Illustrations © 2003 by James E. Ransome
The Blue Sky Press
An Imprint of Scholastic Inc.