Bluish: A Novel
"Courage comes in all colors"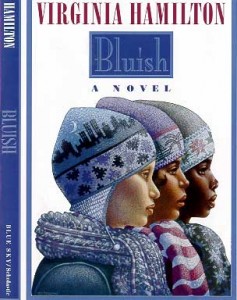 THEY ARE DIFFERENT from one another, all three girls. But the one who is most unusual — unlike anyone the kids at school have ever seen — is the new girl, the one who arrives in a wheelchair and always wears a knitted hat. Bluish, the kids call her. Bluish, making her into some kind of moonlightchild. She is frail and tired, strange and frightening to the students around her.
One girl, Dreenie, is fascinated by her. Dreenie's overwhelming curiosity, almost an obsession, leads her and another student, Tuli, to reach beyond their fear.
BLUISH is a warm, humorous and hopeful novel that reaffirms the strength of young people and their capacity for love and compassion.
"The scene in which Bluish finally takes off her knit cap…is throat-catchingly funny. This novel transcends genre labels with its honest and masterful depiction of the rewards and difficulties of friendship." – from the Bulletin of the Center for Children's Books.
The Blue Sky Press
An Imprint of Scholastic, Inc.
Jacket painting © 1999 by Leo & Diane Dillon
Jacket Design by Kathleen Westray