Arilla Sun Down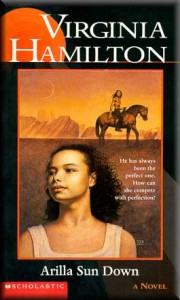 According to Arilla Adams, being twelve years old is "like dangling at the end of a rope and not being able to let go." And it's even worse when you come from a family that doesn't quite fit anywhere. Arilla should know; she is twelve and interracial. Arilla Sun Down is the story of her awakening to who she is and where she fits within her interracial family.
Arilla tells her own story partially in half remembered, almost dreamlike snatches from her early formative years, but mainly in the voice of a typical seventh-grader living in a small midwestern town today. In many ways she is typical: she fights with her brother, Jack Sun Run Adams; complains about homework; has fears she knows are unreasonable; and sometimes disobeys her mother (most flagrantly with the off limits indulgence of her secret passion for roller rink figure skating). But with a mother who is black, a father who is part black, part Indian American, and a radical sixteen-year-old brother who rejects being part of an interracial tribe, (he will be the Indian his ancestors never were), Arilla is not typical.
How Arilla "earns" an identity all her own and the members of her family begin coming to grips with their collective past is dramatized with sensitivity and sensibility. With Arilla Sun Down, this distinguished Newbery Medal-winning author has once again created a totally original and unforgettable family, a fascinating chronicle, a bellwether novel.
Reviews:
"A powerful novel about a young girl's overwhelming determination to understand who she is, where she came from and where she is going." Scholastic Inc.
"Hamilton is a genius with words…Brilliant." Booklist, starred review
"Dazzling, uncommon, impact." — Kirkus Reviews
Awards:
Newbery Award American Library Association Notable Book A School Library Journal "Best Book of the Year"
Author's note: Arilla Sun Down is somewhat autobiographical in that it has two sources from my life. One source has to do with my Indian heritage; my grandmother, Rhetta, was said to be part Cherokee and my great-grandmother was Mary Cloud, a Patawatami Indian. The other source is the strong African American heritage and identity that I claim for myself and my firsthand experience as a parent of interracial children. The two sources fused in my mind in a question: What sort of family would develop from a combination Indian and black American heritage if the Indian was as dominant as the black? Arilla Sun Down is a book about an interracial family – half African American and half Amerindian – that is having difficulty figuring out what each member is in terms of race. The terribly insecure daughter, Arilla, is totally confused by her handsome brother, Jack Sun Run, who sees himself as Indian. Arilla has little idea who she is and where she fits in this racially mixed family.

I hope readers will enjoy this story of Arilla's coming of age. As she learns more about herself, Arilla is better able to explore her feelings. Her exciting experiences in the story help her find out who she is in relation to her highly unusual family, especially her brother, Jack Sun Run. By the story's end, readers may well recognize her as not only a leader, but truly a heroine for our time.
Point Signature – Scholastic Inc.
Cover art by John Palencar