Anthony Burns
The Defeat and Triumph of a Fugitive Slave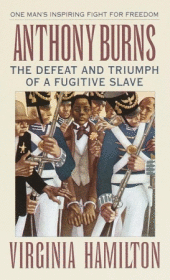 Born a slave in Virginia, Anthony Burns was twenty when he escaped to Boston in 1854. There, for a few short months, he lived and worked as a free man. But overnight Burns' brief time of happiness ended. He was arrested and held without bail at the instigation of his former owner, Charles Suttle, who came to Boston invoking the Fugitive Slave Act – a highly controversial federal law that allowed owners to reclaim escaped slaves by presenting proof of ownership. Suttle made it clear that he had every intention of taking Anthony home.
But Anthony had powerful allies: thousands of abolitionists who saw him as a symbol of freedom imperiled; the Boston Vigilance Committee, a group of legal professionals sworn to use any means within their power to defend the rights of fugitive slaves; and Richard Dana, the patrician lawyer and author of Two Years Before the Mast, who stepped forward to defend Anthony without charge.
At a time when antislavery feeling was at a fever pitch in the North, the Burns case literally rocked Boston. His hearings triggered massive, violent riots, and thousands of troops, called in by a federal administration openly sympathetic to the fugitive slave laws, turned the former Cradle of Liberty into an armed camp. At its center, haunted by memories of his life as a slave, hardly daring to hope that his defenders would prevail, was Anthony Burns himself.
Here is historical reconstruction at its finest. Newbery Medal winner Virginia Hamilton has put her lifelong interest in black history and her formidable gift as a novelist to striking use in this fascinating account. No one but she could have taken the dramatic true story of Anthony Burns and made it unforgettable.
Awards:
– ALA Best Book for Young Adults
– ALA Notable Book
– Boston Globe-Horn Book Award for Nonfiction
– Coretta Scott King Honor Book
– The Horn Book Fanfare Selection
– International Reading Association Teacher's Choice
– Jane Addams Children's Book Award
– Notable Children's Trade Book in the Field of Social Studies
– School Library Journal Best Book of the Year
– South Carolina Young Adult Book Award Nominee
Alfred A. Knopf Publishers
Jacket illustration © 1988 by Leo and Diane Dillon